1) No 7 Colour Calming Primer (green) £11.00
I bought this on a whim when i was trying to use up £5 no 7 vouchers, and for £6 this primer looked a bargain! I've always had red undertones in my skin due to being pretty fair, so I figured I'd give this a go so I could hopefully go a little lighter on my foundation, and it hasn't disappointed. I wouldn't call this a miracle product or a "must have" but it definitely takes out some of the redness, and I now feel confident going out without foundation if I'm low on time. The only thing I would say is that you only need a very tiny amount if you don't want a green tinge on your face!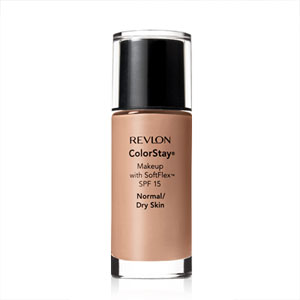 2) Revlon Colorstay for normal/dry skin in Ivory £12.49
Pretty much my holy grail foundation. I've always loved a fuller coverage and I instantly fell in love with this foundation. It's a perfect shade for me which is rare in drugstore/high street make up brands, as a lot just don't cater for paler skin. It has SPF in it which is again, essential for pale skin that burn easily like mine does! I honestly couldn't recommend this foundation any more, I've repurchased several times, my only problem is the fact there's no pump and it's hard to control how much foundation actually comes out, but I can live with that!
3) 17 Shine Control Loose Powder £5.49
I stayed away from loose powders for a long time because I believed them to be just messy. But I was tempted by this, because it has got to be one of the cheapest translucent powders on the market, and it instantly became a necessity for my make up bag. Although ofcourse I still use my collection 2000 pressed powder in ivory for on the go, I use this mostly to buff and perfect my foundation in the morning and with having normal/dry skin I usually don't need to powder again. This really is a favourite of mine and something I'd definitely recommend, especially for the price :)
4) Natural Collection Blush in Sweet Cheeks £1.99
I've never particularly been into blushes because I naturally have quite flushed cheeks and therefore did everything to hide them not accentuate them! However when I checked out the natural collection 3 for £5 offer, I thought I'd give this colour a go. For the price they really are amazing blushes, and even though blush isn't something I wear daily, when I do this is the one I reach for straight away. And for £1.99 I'm seriously considering buying a few more!
5) Bourjois Bronzing Powder (lightest shade 51) £6.99
Probably the most raved about high street bronzer, ofcourse I checked it out :) This was the first bronzer I actually bought, I've always found a lot of high street bronzers to be too shimmery or just too dark, and I didn't really want to spend money on buying a higher end product. I never thought I'd be into bronzer, but I do adore this, I'm a bit lost if I don't have this to contour and just give a little colour to my face. I don't want to go on and on about this product because it's been discussed 348013201 times but it really does live up to the hype
6) Collection 2000 Lasting Perfection Concealer in Fair 1 £4.19
Again another product there is a lot of hype around, sorry for being a massive sheep! I stuck with my avon concealer stick for ages, and only when it ran out i went onto this. I never really liked the liquid concealer idea but this has completed converted me. I've spent so much money on concealers, but this really is the best I've ever tried, I always keep one in my makeup bag for college incase of any sudden breakouts and it really does what it says on the tin, it lasts me all day! Amazing product, and the colour is perfect for me :)
7) Sleek Storm Palette £6.49
This was something I wanted for ages and never got round to buying, but over the past few months it has become a product I literally couldn't live without. If i were to change anything, I'd maybe add a few more matte shades, but this really does have such a mix of neutral, everyday colours nobody should be without. I love using the beige nudes for barely there eyeshadows and the darker browns, greys and black to make the look more dramatic. beautiful, good quality eyeshadows, such a bargain!
8) Avon Supershock Mascara £8.50
My favourite mascara ever! I have about 5 tubes of this mascara lying around to make sure I'm never without it! Gives my lashes such length and volume and works with various other avon mascaras really well to elongate my lashes even further! Mascara is the only thing I never ever buy a different brand of to try, because I couldn't be happier with the way this mascara makes my lashes look. I literally have no complaints, I would recommend this to everyone :) The wand is plastic which i much prefer to brush, and I've never had any problems with the tube drying up before it's empty etc! just amazing :)
9) Maybelline Eye Studio Lasting Drama Gel Eyeliner £7.99
Fairly new addition to my collection, but I adore this eyeliner like no other! I've tried various gel eyeliners but always found that the eyeliner transferred to my upper eyelid, but i really don't have this problem anymore. This eyeliner is beautiful and goes easily on with the fantastic brush that comes with it, which gives you great precision! I love this eyeliner so much and I honestly couldn't go back to any of my other eyeliners, this is the only eyeliner I ever reach for.
10) Sleek True Colour Lipstick in Bare All (matte) £3.99
I've never really found the perfect everyday colour for me, and as a red lip lover, nudes and paler shades never really worked for me. However I took a risk a few weeks ago and bought this colour, and I've been wearing it ever since for shopping/college/everyday. It's a matte shade which for me is essential as I don't really like shimmery lipsticks. This is just the perfect shade for my skin colour because it doesn't wash me out, and I really do love the packaging on these lipsticks, they really do look "sleek" haha ;)
11) 17 Sheer Moisture Lipstick in Beehive £4.29
Another fairly famous high street product, this really is one of my favourite lipsticks, alone or on top of other lipsticks (such as the sleek lipstick above). This lipstick is so moisturizing I love how it feels on the lips, and as i do get dry lips if I don't religiously use my carmex, this really is lovely to keep my lips moisturized. For the price this lipstick is definitely worth checking out!
So these are my 11 couldn't really live without make up products! As you guys will see I don't like splashing out on makeup what with being in college and generally being completely skint, but I love all these products and for the price all of them are absolutely amazing and worth checking out xoxoxoxo